2019 Jeep Easter Safari Is Here

2019 Jeep Easter Safari Is Here
Every year Jeep enthusiasts count down the days to the huge Jeep Easter Safari event. The 2019 version was one for the books! Here's why.
What is Jeep Easter Safari?
The Easter Jeep Safari is an annual event that takes place in Moab, Utah.
The red-brown tundra of the American West makes for the perfect backdrop for the Jeep
concept vehicles that are rolled out for the event each year.
A haven for four-wheeling, the safari consists of trail rides
(mostly day-long trips) departing from the local Moab area.
2019 saw 200+ exhibitors, as part of a free expo that coincided with the EJS itself.
But back to the trails.
These allowed outdoor adventurers the opportunity to test out their four-wheel-drive mettle
(in their personal vehicles) over various challenging terrains.
Imposing obstacles and awe-inspiring trails made for the types of stories that off-roaders will be telling for years to come.
Spotlighting the 2019 Easter Jeep Safari J6 Concept
While all of the 2019 Easter Jeep Safari Concepts mentioned above were exciting in their own right,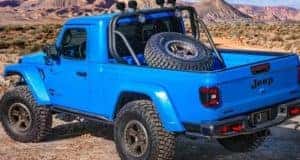 there was one, in particular, that had us geeking out the most.
The latest in Jeep's long history of two-door trucks, the J6 concept was a modified take on the brand's ground-breaking Gladiator.
The J6 Concept boasted
A fitted six-foot bed (a full 12 inches longer than that of the standard Gladiator)
Various prototype parts, including a front stinger bar and Beadlock wheels
Retro Jeep script badging on its fenders and tailgate
A blue exterior color that we found completely AWESOME
37-inch tires
Spare tire carrier prototype
A total of 10 five-inch LED lights mounted on the bumper, A-pillars, and roll bar
2019 Jeep Safari Concept Lineup?
As mentioned above, Jeep Easter Safari concept vehicles always coincide with JES week.
This year's lineup*—which was based on either the '19 Gladiator pickup or Wrangler models—
consisted of the following five vehicles.
1. JT Scrambler. Did you know that Jeep offered a CJ-8 Scrambler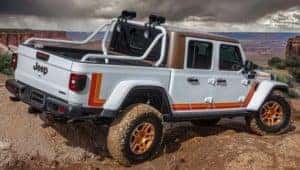 in the early and mid-80's?
At the 2019 JEC, the concept-version came complete with DayGlo stripes
recalling those glory days.
Other specs for this throwback included a custom brown top, brown leather interior,
and Gorange (or gold-orange) accessory wheels.
2. The Wayout offering was a Gladiator that looked like it was born for Overlanding.
(For those who may be unfamiliar, the term Overlanding refers to self-reliant adventure travel to
remote destinations where the journey itself is the primary goal).
This one came with 37-in tires, custom bed rack, hard-shell rooftop tent, Mopar bed drawers, fold-out awning, and all kinds of add-ons. These add-ons include super simple steel wheels, a Warn winch, an on-board air compressor,
custom steps welded into the rock rails on all four corners of the bed, and fuel-canisters.
3. Gladiator Gravity. This rugged model carried a rock-climbing theme.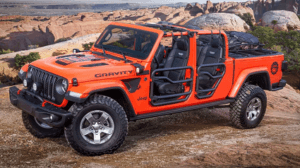 Its overall look and accessories were a nod to the Mopar parts catalog.
For our money, the Gravity's highlights consisted of its 35-inch tires, tube doors
(with "EJECT" stamped onto their interior-mounted handle),
a drawer system loaded up with climbing equipment, and a small cargo basket mounted over the bed packed with camping gear secured in place by an elastic net.
4. Referencing motocross, the Flatbill boasted two KTM dirt bikes in its bed, eye-popping 40-inch tires, custom rails, motocross jacket seat inserts, a Bro-rated medallion, and more. The Flatbill's flashy exterior consisted of black, white, and DayGlo colors.
5. Five Quarter. Perhaps the most throw-back of this year's lineup was the Five Quarter.
This offering was based off an M715 military truck. It rode on Dana 60 axles, a massive lift, and 40-inch tires. The model's aluminum exterior finish, on the other hand, recalled glory days gone by.
What was most striking, however, was what was under the Five Quarter's hood: Here sat a 6.2-liter supercharged 'Hellcrate' motor that put out a mind-blowing 707 horsepower.
*Thank you to Chris O'Neill of Autotrader, whose reporting furnished much of this concept vehicle-related information.
What is Jeep Life?
Jeep Life is all about promoting adventure.
The Easter Jeep Safari is one aspect of this great platform of course,
but there are many more as well.
Take Badge of Honor, for instance.
Badge of Honor is an online community that celebrates and rewards off-road enthusiasts
like the ones who ventured out to Moab Utah for The 2019 Jeep Easter Safari.
Badge of Honor allows you to download a special app (from the Apple App Store) that gives you trails
based on your location; it also provides highlights and degrees of difficulty for these trails.
From here, you can also earn hard badges that you can display on your Jeep vehicle.
To all the Jeep enthusiasts,
Happy Trails!