Rairdon Auto Group Donates 1200 Backpacks to Hopelink

Back to school is here! And to prove it, Rairdon Auto Group found 1200 backpacks at their doorstep this past Monday. Here's why they were there and where they were going to next.
Rairdon & Hopelink Team up for Seattle-area Kids
Few things say solid future as clearly and distinctly as getting a good education does.
And a good education involves having all the right tools.
With this in mind, team Rairdon got busy stuffing the 1200 backpacks at their
doorstep all in one fell swoop.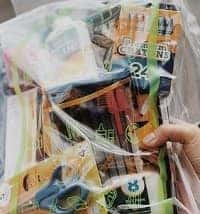 Inside went all of the essential school supplies that kids need to be successful.
These were items that the team found useful growing up, items
they knew would benefit our youngest & most full of future.
From 3-ring binders to composition notebooks, scissors
to divider tabs, graph paper to crayons—they were all there.
Then, with the heavy lifting complete, the team was headed for only
one place—the Hopelink donation drop-off center in Kirkland Washington.
The Team's (Seriously Big) Delivery
1200 school-supply stuffed backpacks? ✔️

4 Dodge SUVs and a Ram ProMaster as transportation for the big haul? ✔️

Eager team members behind the wheel and in the passenger seats? ✔️

After a short drive, team Rairdon + Hopelink's reps were eager to get all the precious cargo inside, which was one step closer to being in the hands of students.
Why we Love Hopelink
Why does Rairdon love Hopelink?
So many reasons.
In addition to helping our youngest citizens, Hopelink also provides our local Seattle area with food assistance,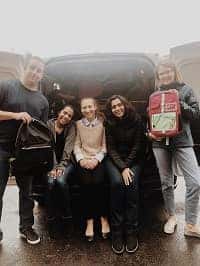 financial services, housing, adult education, transportation, family development, and employment services.
And did you know?
To date, 92% of Hopelink families have been able to establish or maintain stable housing after organizational assistance.
To be sure, the entire team at Rairdon sees Hopelink as the embodiment of kindliness, humanity, and love for mankind (these words form the original Greek root for philanthropy).
Other Important Causes
There's so much good to be done in this world! To that end, here are five other causes we heart.
Seattle Children's Hospital
Seattle Children's Hospital is a hero to so many people. Currently, the hospital is revolutionizing pediatric medicine in order to save the lives of more children.
During the holiday season of 2018, Rairdon Auto Group and Seattle Children's Hospital partnered for a special toy drive. Thanks to the company's wide net of dealerships, 2,633 total toys were able to be raised for the kids.
From here, a group of company vans personally took the haul to the hospital.
"Seattle Children's Hospital is such an important organization for our community and the fact that everyone here —including myself— has opportunities to use Seattle Children's Hospital makes all of us so fortunate," Greg Rairdon, founder of Rairdon Auto Group said.
In Concert for Cancer
Rairdon Auto Group is honored to be a sponsor of In Concert for Cancer for 4 years running now.
As the organizers behind this event are a group of cancer warriors + professionals looking to make a difference in the fight against cancer, ICFC is very dear to all of our hearts.
What's so inspiring is how 100% of ICFC's proceeds go directly toward funding important cancer-patient programs like Strong Against Cancer.
St. Jude Rock 'N' Roll Seattle
The St. Jude Rock 'N' Roll Marathon Series in Seattle is marathon running at its finest. Runners test their endurance while contributing to a very worthy cause. The cause, of course, is St. Jude Children's Research Hospital. Runners raise funds for St. Jude's and St. Jude's, in turn, is leading the way the world understands, treats and defeats childhood cancer and other life-threatening diseases.
The St. Jude Rock 'N' Roll Run Seattle is in perfect serendipity with Rairdon's Culture of Care.
Members of the Rairdon team were proud to run in this amazing race.
International Women's Day & Mary's Place
Rairdon also hearts women's issues. Among our favorites is Mary's Place. A champion of women, in 2018 the organization facilitated 359,800 meals, 1,460 employment services, and 179,000 bed nights in their quest to help females and their families out of homelessness.
In support of Mary's Place and International Women's Day, this past spring Rairdon's Subaru of Auburn donated a portion of their proceeds from every car sold to Mary's Place.
Pets for Patriots
Pets for Patriots helps give animals a forever home while also matching U.S. military veterans with shelter pets.
The organization is affiliated with so many local veterinarians and animal service professionals throughout Washington State, including Acces Animal Critical Care & Emergency Services in Renton, Regional Animal Services of King County in Kent, and Pilchuck Veterinary Hospital in Snohomish.
As a show of solidarity with our troops, this past Memorial Day, Rairdon's Subaru of Auburn made a $50 donation to Pets for Patriots for every new car sold.
Semper Fi!