The 2020 Rairdon Annual Holiday Giving Campaign Raises Over $37,000 for Local Charities in WA State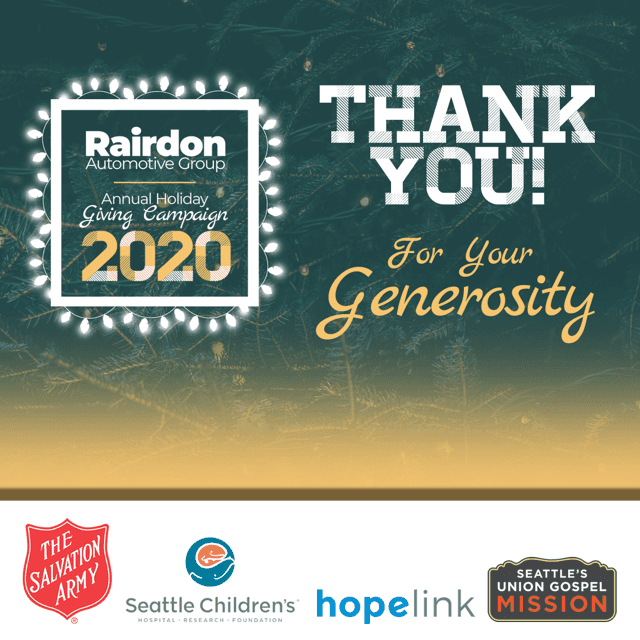 It's all part of the Rairdon Culture of Care to give back to those in our community. Each year around the holidays, we're honored to be able to select one or more charity partners to support through financial donation and/or gifts. In total, the Rairdon Annual Giving Campaign 2020 raised $37,253 for our partner charities Hopelink, Seattle Union Gospel Mission, Salvation Army of Washington, and Seattle Children's Hospital.
2020 was an especially difficult year for many members of our community here in the Seattle area and around the globe, and we are grateful for our ability to support our 4 chosen charity partners whose missions positively impact our communities. Our chosen charity partners support programs that provide food and housing assistance to families living below the poverty line, wraparound services for those experiencing homelessness, and children's services.
We want to thank all of our customers, employees and friends & family of Rairdon Auto Group for making the 2020 Annual Giving Campaign our best year yet! Read on for each of our 2020 charity partner's mission statements and why we chose them.
Hopelink
About Hopelink:
Hopelink provides a network of critical social services through a number of different programs including housing, transportation, family development, financial assistance, employment programs, adult education, financial literacy training and five food banks. The agency's service centers, housing and transportation programs help more than 63,000 people every year.Why Rairdon Chose Hopelink
We're passionate about giving back to our community, and Hopelink's vital services available to those experiencing life below the poverty line can mean the difference between staying in and breaking the cycle of poverty. With a multi-faceted approach to solving the issues created by income inequality, Hopelink provides just that – hope for a brighter future.
Seattle Childrens
About Seattle Children's
Compassionate care, research and the generosity of our donors come together for the children and their families who need us. For over 100 years we've fought relentlessly to ensure there's no "out of options" and make sure kids who "don't have a chance" can have a childhood that they deserve. At Seattle Children's, we're united by one compelling mission: We provide hope, care and pursue the cure for every child to live their healthiest & most fulfilling life possible.
Why Rairdon Chose Seattle Children's
Seattle Children's mission means the difference to every child in hospital care this Holiday Season. Your contribution funds the purchase of new toys, gift cards and other items to help patients and families when they need comfort most. Every little bit will help to reach our goal, and make a child's day.
Seattle Union Gospel Mission, WA
About Seattle Union Gospel Mission
Relationships, urgency, effectiveness, belief, courage and innovation are the Union Gospel Missions core values. As Washington's winter weather sweeps in, donations are directed to the rescue of people trapped on the streets. At the Union Gospel Mission, our united mission is to help the homeless relocate and rehabilitate for a chance for a healthy and happy life.Why Rairdon Chose Seattle Union Gospel Mission
Union Gospel Mission rescues, serves, and transforms the lives of our homeless neighbors. Their mission is to build a community by providing stable pathways out of homelessness and the integration of caring for body, mind, and spirit. Donations help homeless neighbors with outreach programs based around survival, stabilization & recovery. These programs help to move people experiencing homelessness to healthy, thriving lives.
Salvation Army WA State
About The Salvation Army
Our mission is to meet every human need – physical, social, and spiritual. Investment in people to optimize the lives of those in each community facing hardships and challenges, is to help bring them to the best and most beneficial place in life.Why Rairdon Chose The Salvation Army
The Salvation Army meets human need whenever, wherever, and however is possible. Their local relief programs consist of disaster relief, homeless shelters, food pantries, job training, spiritual healing, and many more. This year especially, the Salvation Army needs assistance to meet every. Due to COVID-19, Salvation Army's need for services increased by up to 155% this holiday season.